Date: 09/02/2023
Scams and Fraud
There are many scams and fraudulent activities taking place at the moment, many of which are pretending to be Financial Institutions, state and Government organisations. Some of these are SMS text messages or phone calls.
Fraudsters use social media, fake websites and are copying legitimate websites to trick us into parting with our money and personal data.
Please note – Your credit union will never contact you by text or email asking you to click a link to verify your account.If you get such a text or email, please do not click on the link. If you have any concerns please contact our offices on 042 967 5000
If you receive an unsolicited phone call, email, text message or pop-up box out of the blue, take the SAFE test first.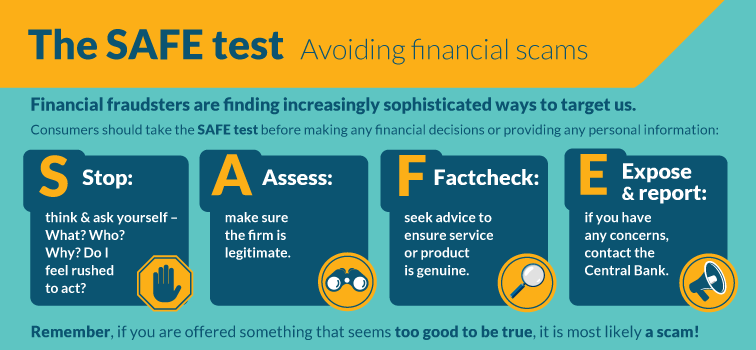 *Image courtesy of Central Bank of Ireland
For Current Account Members
If you suspect you have been the victim of fraud or have noticed unusual activity on your account, contact your Credit Union or Credit Union Card Services immediately and also report to your local Garda Station. Fraudsters move fast; the quicker you  contact your Credit Union to safeguard your accounts the better.
Credit Union card services available 24/7 on +353 1 693 3333
Please read guidelines further here: Fraud-Awareness-Brochure-Jan-2021