Date: 04/08/2023
Get ready for College with Link Credit Union
We have you covered for College this year!
Student Current Account
Our Current Account gives you instant access to your money through our Mastercard® Debit Card which is accepted worldwide, a secure app and online portal, mobile functionality, and best of all, there's free day-to-day banking for Students!
There are no maintenance fees on the Current Account for Students who are enrolling or currently enrolled in full-time third-level education (evidence of your enrolment is required on an annual basis).
If you are a member over 16 years of age you can apply in minutes through our online banking portal.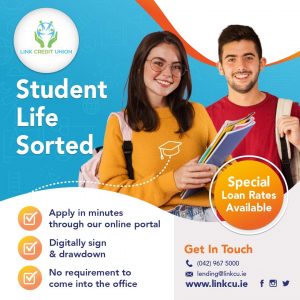 Student Loans
Whether you're a student, mature student or a parent of a student, talk to us about a student loan to help make those financial difficulties less challenging. We offer competitive student loan rates that are designed to take care of your financial needs in third level education without any hassle.
Apply for your loan in minutes through our online portal, digitally sign and drawdown with no requirement to come into the office.
Low student interest rate.
No fees and charges.
Online loan application process.
No penalties for paying off your loan early.